Turbo Grafx/Duo/PC Engine Region Modification
This does exactly what it says, allowing you to "modify" the region of your system. Specifically this means that you can play US HuCards on a Japanese system and Japanese HuCards on a US system.
Some important facts to know about region dependence and modification, including known issues:
US and Japanese CDs and SCDs are NOT region dependent. These will play on any CD-capable system (SCDs require either a Duo or System 3.0 card).
The region modification on a Japanese system not only involves adapting the HuCard slot but also grounding pin 29 on the Hu6280 processor (region lockout defeat). Please note, that no matter what anyone tells you, "region mod" means more than just grounding pin 29! You still either need to modify the HuCard slot or use an adapter such as David Shadoff's incredible Kisado Adapter.
With a region switch you can use the Arcade Card Duo on an American Turbo Duo!
With a region switch you can use the Japanese Super System Card 3.0 (cheaper!), the Ten No Koe Bank, and other japanese accessory HuCards.
To play Arcade CDs on a Turbo Grafx with CD attachment, you will need the Arcade Card PRO (NOT Duo)

As a sidenote, the Arcade Card Pro also allows you to play SCDs without also needing the Super System 3.0 card!!
Certain games have known issues with region mods on the SuperGrafx system:
Aldynes - plays fine, but if you allow the system to go into Attract Mode (demo at beginning), it will freeze.
Space Harrier - game apparently loads and then quickly freezes.
Systems that I currently will mod with a region switch:
US Turbo Grafx-16

US Turbo Duo

PC Engine Duo

PC Engine Duo-R

PC Engine Duo-RX

SuperGrafx
Wanna see what the switch looks like on these systems? Take a look below....
Region switch on a US Turbo Duo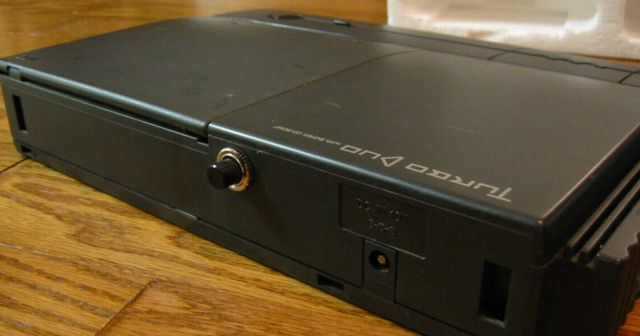 Region switch (and RCA mounts) on a US Turbo Grafx-16
Region Switch on a SuperGrafx